Now that that seems to be behind us, AC Milan fans can look back on the mid-2010s era with a bit of bewilderment but perhaps a bit of affection in equal measure.
Milan won the trophy just won from 2012 to last season, which was the Italian Supercoppa under Vincenzo Montella, and therefore many refer to the period 2012-2018 – so until Elliott Management took over the club – as the "era of jokes".
Who stood out during those troubled years? Who deserves to be part of the best XI of this era? James chooses his starting formation according to the players of that time…
Goalkeeper: Gianluigi Donnarumma
Despite his unpredictable departure to Paris Saint-Germain in the summer of 2021, Donnarumma's place in this XI has never been in doubt. Promoted to the senior team by Siniša Mihajlović ahead of the 2015–16 season, Donnarumma had cemented his place in Milan's starting line-up before reaching his 17th birthday.
After replacing veteran goalkeeper Diego López, the teenager quickly became one of the best-known young talents in European football, prompting inevitable comparisons with namesake Gianluigi Buffon. Despite immense pressure to live up to expectations, Donnarumma continually produced performances that belied his age and remained Milan's starting goalkeeper until his controversial exit, having made over 250 appearances for the club.
Left back: Luca Antonelli
Another product of Milan's Primavera side, Luca Antonelli returned to the club in 2014-15 after spells at Bari, Parma and Genoa. Perhaps one of Milan's most underrated players in the banter era, Antonelli claims his place in this XI due to his impressive consistency at the back.
Although he may not have made the headlines, the Monza-born left-back was one of the Rossoneri's most reliable defenders and offered a level of composure in possession that few of his team-mates could equal. Hindered only by his injury record, Antonelli was at his best one of the most reliable full-backs in all of Serie A.
Central defender: Alessio Romagnoli
Rightfully taking the captaincy in 2018/19 aged just 23, Alessio Romagnoli was one of the easiest inclusions in this XI. Once one of Italy's most sought-after young defenders, Romagnoli joined Milan aged 20 despite the club's infamous 10th-place finish the season before.
The young centre-back lived up to his initial promise, cementing his place in Milan's back line during the second half of the decade. Romagnoli was a cultured, somewhat reserved defender who often tackled less than his centre-back partners, but brought crucial intangibles such as leadership and composure to Milan's defence.
Central defender: Philippe Mexes
The Romagnoli partner at the heart of this defense is Philippe Mexès. One of the most polarizing figures in Milan's recent history, Mexes was infamous for his aggressive style of play and rambunctious behavior on the pitch.
Although his reckless attitude often drew criticism, the Frenchman's raw defensive ability was undeniable and he brought much-needed resolve to a lackluster Milan side. Remarkably, Mexes has secured his place in Milanese folklore with a catalog of world-class goals that very few players in world football could emulate. Both loved and hated by rival fans, Philippe Mexès has forged a truly unique legacy that will live long in the memory of the Milanisti.
Right-back: Ignazio Abate
Referring to Ignazio Abate as an 'era of jokes' player can be controversial. The third Milan youth product in this list, Abate was already an established presence in Milan's back line before the club's steep decline, having made his Serie A debut for the Rossoneri in 2009-10.
Despite this, Ignazio's longevity and commitment to the club throughout the period in question justifies his inclusion in this XI. Unlike his aforementioned team-mate Luca Antonelli, Abate's consistency on the pitch has sometimes been questioned, but his commendable drive and athleticism have seen him produce periodic streaks of excellence in his 306 appearances for the club. .
Defensive midfielder: Nigel de Jong
Potentially the most distinguished name on this list, Nigel de Jong earns a place in this roster having made 96 appearances for Milan following his arrival at the club in 2012-13. Often wrongly labeled as a pure midfield destroyer, de Jong was also an excellent distributor from the midfield base and was assured in his possession.
Despite his notorious disciplinary record, the Dutch midfielder possessed exceptional leadership qualities and played with a determination that few of his Milan teammates could match. Often regarded as one of Milan's most important players in the early to mid-2010s, de Jong continually produced outstanding performances as the team around him declined.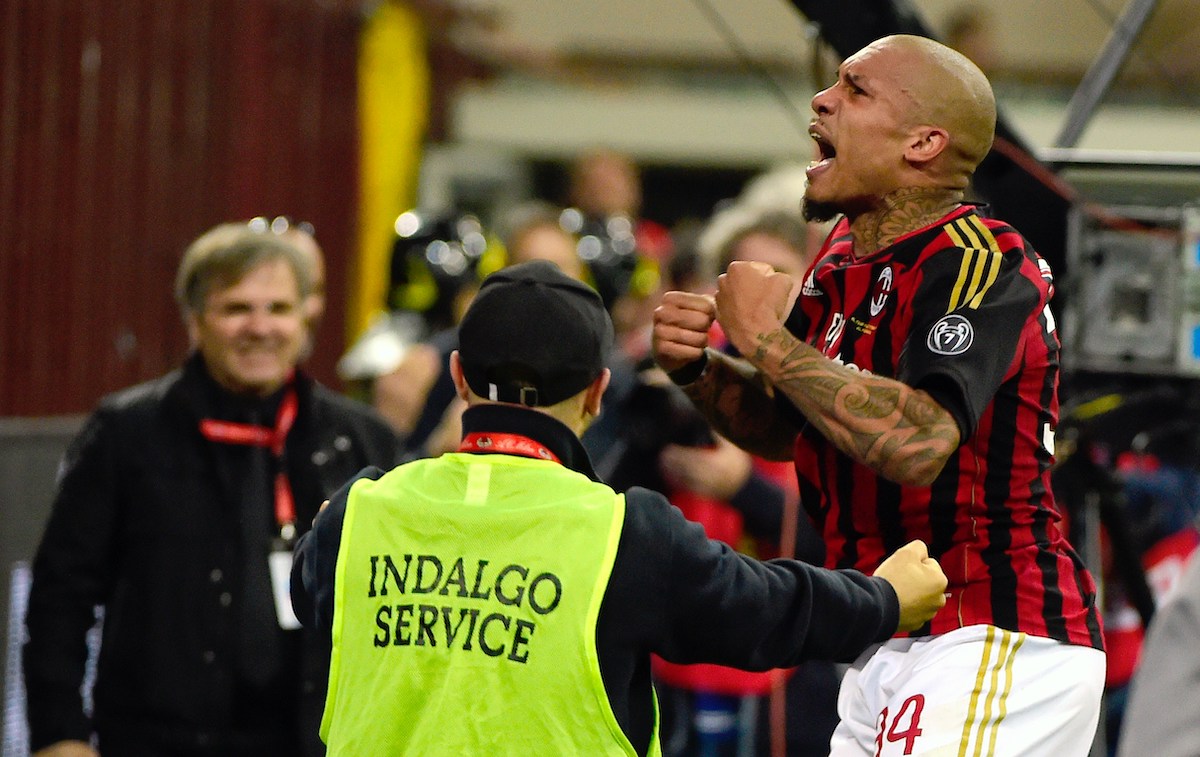 Central midfielder: Giacomo Bonaventura
Quite possibly Milan's greatest asset back in the day of the jokes, Giacomo Bonaventura was the first name on that squad sheet. Affectionately referred to as 'Jack' by fans, Bonaventura single-handedly carried Milan through some of the toughest periods in their modern history.
Jack was mainly deployed on the left side of a three-man midfield, but was equally capable of attacking in midfield or on the left wing. While Giacomo had incredibly varied skill sets, he particularly excelled when it came to ball progression.
Among central midfielders, Bonaventura's ability to dribble past opponents effectively was almost unmatched. Jack was arguably the brightest spark of an otherwise dark time for the Rossoneri, making him one of the few true legends of the banter era.
Central midfielder: Juraj Kucka
Despite only spending two seasons at the San Siro, Slovakia international Juraj Kucka (or 'Kuco') made an impressive 67 appearances for the Rossoneri between 2015-16 and 2016-17. The 6'1" midfielder operated in a box-to-box role, using his tenacity and substantial physical presence to regain possession and make powerful runs into the opposition half.
"While Kucka was less technically gifted than many of his midfield counterparts, he retained his place in Milan's starting line-up under three separate managers, underscoring his importance to the team during a period of great instability. Kuco's fearlessness on the pitch has made him a cult hero among Milan fans, securing him the last spot in that midfield.
Left winger: Jeremy Menez
When Jérémy Ménez arrived in Milan on a free transfer after an unspectacular season with Paris Saint-Germain, few would have predicted the impact he would have at San Siro. The player from that roster with the fewest appearances for Milan, Ménez immediately grabbed the headlines with an all-time superb backheel goal on his away debut against Parma.
The French forward went on to score 16 goals and 4 assists during the 2014-15 Serie A campaign, leading a hopeless Milan side in the first half. Although his goalscoring record was greatly increased by penalties and his individualistic attitude on the pitch is often of concern, Ménez has arguably had the biggest single-season impact of any player throughout his career. the era of jokes.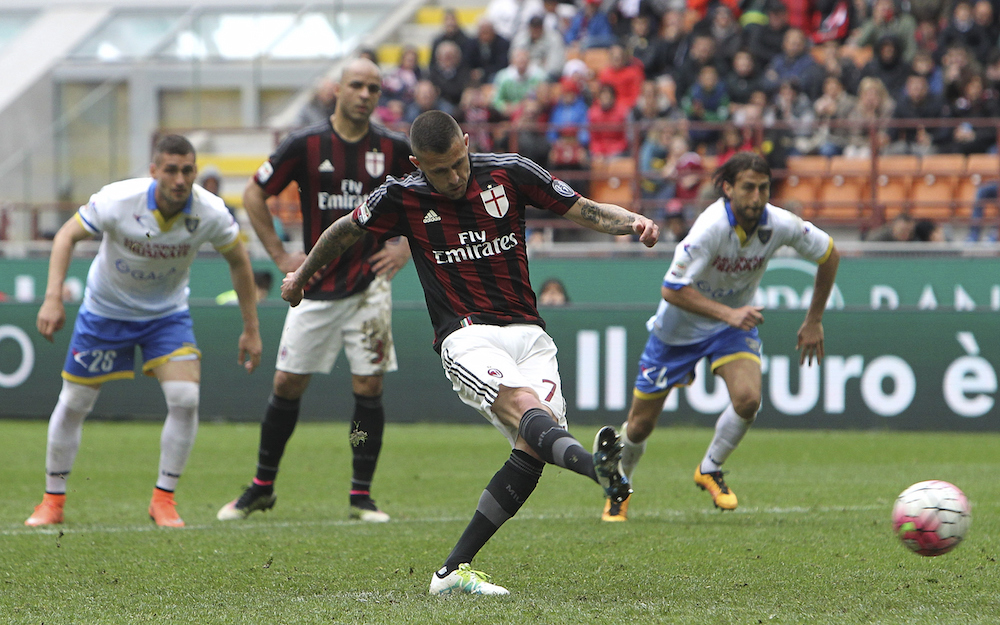 Right winger: Suso
After taking time to settle in Milan after signing at 21, Jesús Joaquín Fernández Sáenz de la Torre, better known as Suso, has become one of the main contributors to the team under Vincenzo Montella. Suso became a regular starter under the Italian manager in 2016-17 after returning from a successful loan spell at Genoa, where he contributed to 7 goals in 19 appearances.
Despite his somewhat predictable style, regularly choosing to cut inside his favored left foot, the Spaniard was incredibly difficult to dispossess and offered both goal threat and creativity from the outside. Suso left for La Liga in 2020 after contributing 60 goals in 153 appearances for Milan.
Attacker: Carlos Bacca
Rounding out that XI, Colombian striker Carlos Bacca has proven to be Milan's most reliable source of goals throughout the banter era. Bacca arrived in the summer of 2015 after a successful stint with UEFA Europa League champions Sevilla, having scored 49 goals in two seasons with the Spanish side.
Standing 5'11", the South American centre-forward relied on his clever movement and instinctive finishing to score the majority of his goals, many of which secured vital points for a struggling Milan side Although he contributed little to the builder's game, Bacca was an incredibly effective poacher and scored 34 goals in 77 games for Milan before returning to La Liga in 2017.