The key events:
Coverage of this game is completely finished, so I will sign. Here is a report on England 5-0 Northern Ireland. Goodbye!
"Austria was closer at two, three or four that Norway had to equalize, "explains John Arne Riise. "Huge disappointment."
Germany, ranked No5 in the world, are next for Austria, at Brentford Community Stadium next Thursday. They celebrate this victory as if they won the whole competition, and it's probably a good idea for them to take advantage of it while they have the opportunity – they will be huge underdogs in their next game. But it was a massively composed display from them, and they won't be child's play.
Final score: Austria 1-0 Norway
90+5 mins: It's finish! Norway is eliminated and Austria celebrates!
90+4 mins: Laura Wienroither eats around 40 precious seconds with a slow-motion dribble from 60 yards, before finally being stripped. One minute to play.
90+2 mins: Another shot on target! Norway pump the ball into the box from the halfway line, it is knocked down and Hegerberg's point-blank volley hits Zinsberger.
90+1 minutes: Austria are four minutes behind the clock from the round of 16.
89 minutes: Norway scored! Hegerberg finds Bizet, whose shot from the right side of the box would have ended up in the top corner had Zinsberger not pushed it to safety.
88 minutes: Nicole Billa, author of the only goal of the match, leaves and Marina Georgieva enters.
86 minutes: Norway hires Vilde Bøe Risa for Frida Maanum.
85 minutes: Caroline Graham Hansen gets some space down the right for Norway, but her cross is so, so poor and dribbles towards the nearest defender.
82 minutes: After waiting 78 minutes for their first corner, Norway now have three, the last giving Ildhusøy a very difficult volley chance, which they fail to take. Sophie Haug replaces Blakstad.
81 minutes: England leads 5-0. Even Northern Ireland are scoring for them now – this one is an own goal.
80 minutes: The ball goes away, bounces off a few people and comes back into the area. For a moment, it looks like Hegerberg will get to him first but…well…he doesn't. Zinsberger claims it instead.
78 minutes: Norway is not panicking yet and is sticking to its methods. Their methods have just brought them a first corner.
75 minutes: The stats tell the story of Austria's dominance: Norway have played more passes (337-236 as I type) and had more possession, but Austria massively outrun them (95.5km at 91.7 km), had 16 shots against the two Norways, and are 9-0 on shots on target.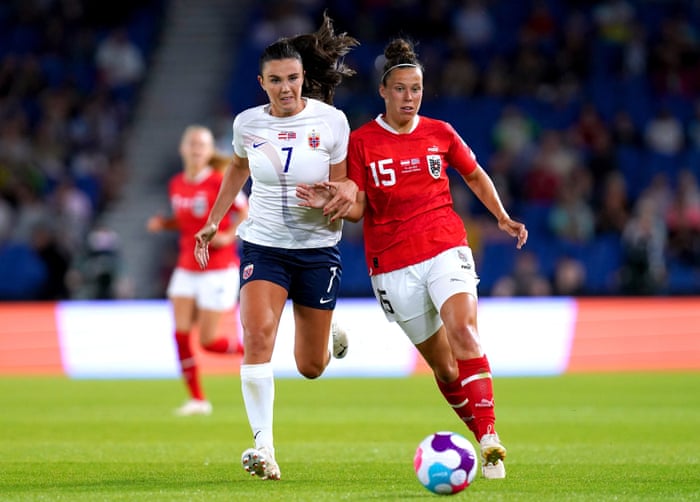 72 minutes: Makas should have scored from his first touch! The ball crosses the area from the right and Makas peels off at the back post and is on her own as the ball lands on her, she lays it on her chest and she considers her options for a moment. She ultimately chooses to weakly punch him directly at Pettersen.
71 minutes: A first change for Austria, which leaves its right winger, Hickelsberger-Füller, and brings in Lisa Makas, who is center forward.
69 minutes: Hickelsberger-Füller enters the box from the right but Pettersen looks like a real ball magnet, and that shot goes straight for her too.
68 minutes: Norway do a good thing! Hansen gets to the right-hander and throws a wicked cross. It doesn't approach anyone in a white shirt, but is still an enterprising game.
67 minutes: Norway has the ball a bit. Frida Maanum gets it, looks up, sees no one to pass, and waves her arms sharply before turning and passing backwards.
65 minutes: Norway make the first substitution of the evening: Eikeland is absent and Celin Bizet Ildhusøy replaces her.
63 minutes: The ball reaches Billa at the edge of the box, but his first shot lacks power and flies straight at Pettersen.
62 minutes: Dunst cuts off his right foot and shoots Pettersen. Norway defended the crosses in the box excellently, but were not very good at many other things.
60 minutes: Another goal for England's Alessia Russo, who leads Northern Ireland 4-0 and rides the crest of a wave into the quarter-finals.
58 mins: Austria pass the ball around their back line for a while, with no obvious goal. They eventually tire of it and pump it forward, after which it is lost.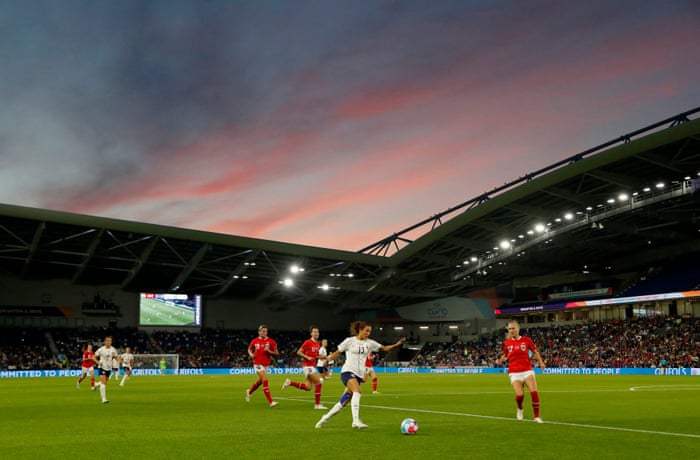 55 mins: Norway have a bit of possession and this time get a shot at the end, but Hegerberg scuffs it wide.
52 mins: A break in the game while Wienroother receives treatment. England led 3-0 at Southampton, Alessia Russo by a header.
50 mins: What Martin Sjögren said to his proteges at the break does not seem to have transformed them. Austria continue to look more threatening but here Hickelsberger-Füller, with two team-mates to aim for, sends a low cross into Pettersen's arms.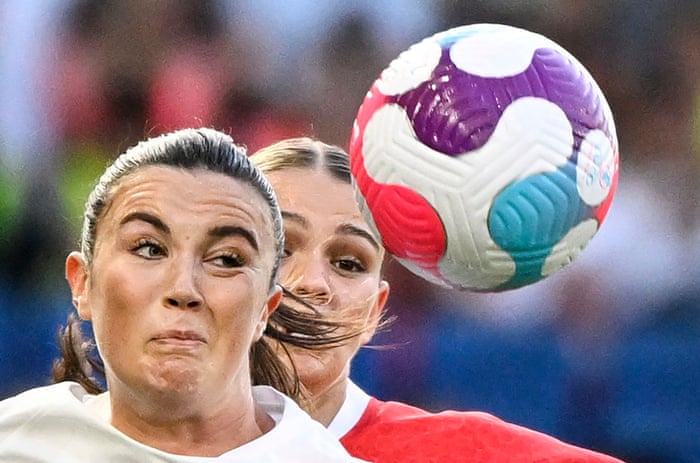 47 mins: Austria have their first chance after 62 seconds into the second half, but after going four against three they fail to create a clear opening and the shot hits a defender.
46 mins: Peeeeeep! Back to the game!
The players are back. Before play resumes, Norway reassembles, where Graham appears to be giving bonus tactical instructions.
Beth Mead scored a second goal for England just before half-time, and they thus lead Northern Ireland by two goals to none. Rob Smyth's live blog is here:
45+3 mins: Peep! We had half the time and Austria had every chance. Norway had one knock against Austria's nine, no corners against Austria's four, and absolutely can't complain about being in their current situation. They have to win this game, and they don't look like they can.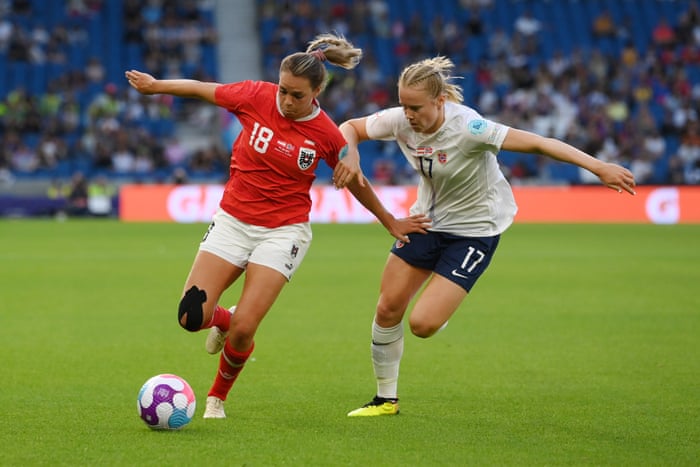 45+2 mins: We're halfway through the scheduled three minutes of downtime.
45+1 mins: Wenninger is cautioned for a foul on Hegerberg, this is the first time I have to type Hegerberg's name.