The key events:
Here is an overview of the penalty decision and the red card. What do you think?
We had some reactions to the red card as Peter says: "Don't personally care about this red card. Not so much for the penalty as for the player possibly missing his last match of the tournament. It's hard.
Full time: France 2-1 Belgium
Well, that was a dramatic ending, wasn't it! At halftime, the game was well balanced at 2-1 as Belgium built. But the final minutes of regulation time saw Tysiak's hand hit a Geyoro shot. The action is judged yellow, a second for the defender, sees her leave with a red but Renard's penalty is saved! France will lead the group and advance to the quarter-finals.
90 + 6 minutes: There is a French corner as Minnaert gets away with it. The ball is sent but Renard's header is saved. Whistle blows, France is qualified for the round of 16
90 + 4 minutes: There are five more minutes so Belgium have time to equalize here. I'm still shocked by the penalty decision, Tysiak's hand touched the ball but it felt like a natural position to me. France are awarded a free kick as another foul occurs.
90 + 2 minutes: Commentators say the missed penalty is poetic justice for Belgium, what do you think of the red card and the decision on the penalty spot? I think it was a sweet to give away.
PENALTY MISS! France 2-1 Belgium
Renard's penalty is superbly stopped by Evrard then the French captain misses the rebound.
RED CARD! France 2-1 Belgium (Tysiak, 88′)
It's a second yellow for Tysiak and let's go!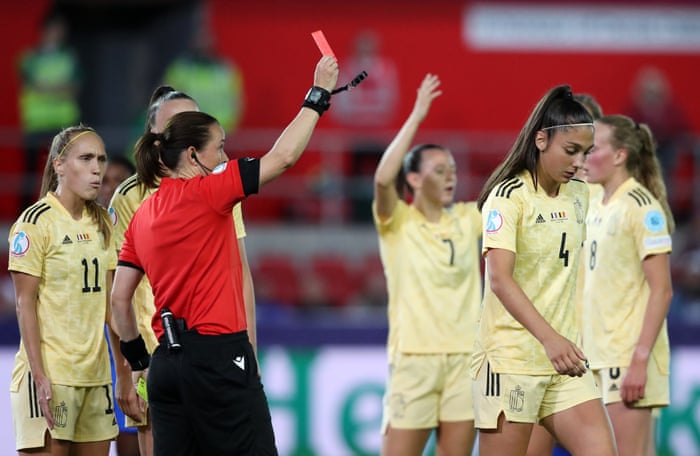 88 minutes: The VAR check requires the referee to look at the screen. It's a handball they watch but it would be so sweet if given. She gave it away! Tysiak's hand is deemed to have deflected Geyoro's luck.
87 minutes: Bilbaut is the victim of a fault and France must build in depth. They run it to the edge of the box and Perisset gets a corner. Renard takes the lead but he comes back in the box with Geyoro's chance deflected for another corner. There's a VAR check for a penalty before the second corner – I don't know what they're looking for, there's nothing for me but I think it's for handball.
84 minutes: Bacha takes the set piece but Cascarino doesn't quite manage it. Belgium tries to counter but it is recovered quite easily by France. Tysiak interrupts the ball to get Belgium back on track. Caiman crosses and Peyraud-Magnin goes looking but he escapes. Renard has to clear him, a moment of nervousness there!
82 minutes: Geyoro finds herself in the surface but she is well tackled. Bacha makes a good run as France put him back in the box but he goes out of play. There is a caution for De Caigny as she fouls Sarr and offers a free kick.
80 minutes: Belgium are patient with each attack when they are in their own half but they seem to be rushing their last passes. It was all Belgium in the last minutes but they did not fit. France is coming now…
77 minutes: Bacha has the last chance, she looked good in both matches coming off the bench. His attempt is useless. Belgium are patient in their rise to power here but the French manage to recover it. Again Belgium are forced to play out of their own half but in the end the French defenders outnumber the Belgian attack. Belgium make another change as Dhont retires for Eurlings.
74 minutes: A French coach has told the media that Katoto's injury doesn't seem too serious at the moment. Good news! Minnaert sends the ball into the area but Peyraud-Magnin takes it out in the air. The announcement came that just over 8,000 are watching in Rotherham.
72 minutes: Belgium kept the ball which could see them build a nice attack. Bacha recovers the ball. Don't forget that if France wins here, they will reserve a place in the quarter-finals.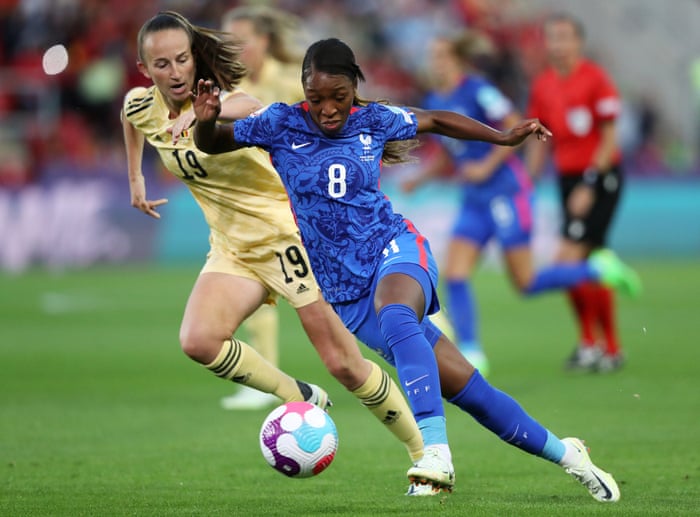 70 minutes: De Neve does so well under pressure, the ball is spun towards Karchaoui but the defender times her tackle perfectly. There is another Belgian change as De Neve comes out for Tysiak. Of course, this change decision was made before this De Neve intervention, but it's still a curious decision with the way the defender was playing.
68 minutes: Kees succeeds once again in cutting a shot, France raises. Sarr takes the lead, it's a bad attempt, and Evrard recovers. Geyoro puts it back in the box a few moments later, it's settled and France returns. Sarr has another poor finish as Evrard pushes back his sweet cock.
65 minutes: Corner Belgium, their first of the match. Could they retaliate? They play it short, it is sent and Peyraud-Magnin strikes outside. France start to get sloppy as they lose it in midfield, the ball misses play and the French make changes. Diani left through Bacha and Mateo leaves for Toletti.
63 minutes: The mood has definitely changed. For the majority of the first half, France were fluid and had all the momentum. But after conceding they look a bit more nervous, despite still having the majority of the ball. France win a free-kick halfway through after a foul by Wullaert, but it ends in an excellent Belgium defense which reduces the chance. Another Frenchwoman goes to the ground and the referee does not give a free kick. De Caigny's run is good as Belgium look to fight back but the offside rules out any chance.
60 minutes: There are two changes for Belgium since Philtjens and Vanhaevermaet leave for Deloose and Delacauw. Belgium is doing better and keeping France away.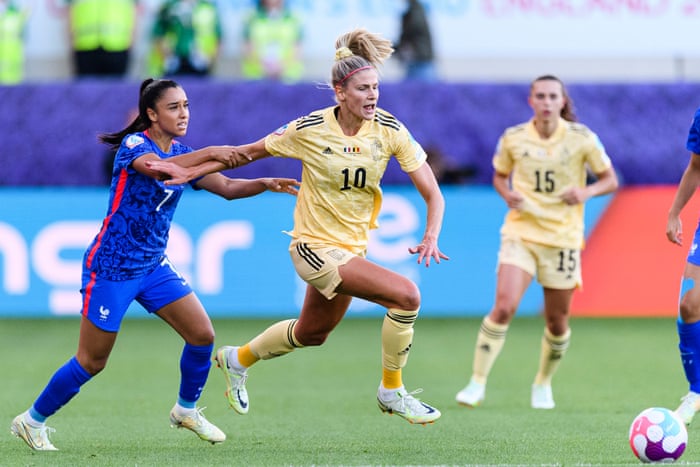 58 minutes: Geyoro is down in the box and she gets boos for that, was that a dive? Maybe slightly. Diani, who had a good game, passes but the whistle blows for an earlier Cascarino offside. Belgium have a chance as Wullaert looks for De Caigny in the box but they are unsuccessful.
56 minutes: Mateo's cross slices like hot butter but he goes out of play, it looked like a similar cross that England's Lucy Bronze put in before the tournament in which she scored.
54 minutes: France wins a corner, yes another, by chaining the passes. It was great team football there for them to win the free kick. Renard, who had the lead in all the turns, took the lead but Evrard took the lead. The France captain wins the ball and it ends up with Sarr, who passes him and Evrard does well to shut him down.
51 minutes: Belgium were building there but Wullaert has too much on a pass that gives it back to France. Belgium fight back as Dhont comes forward but Renard cuts off the pass, a fine defense from the French captain. Diani brings it up the other end and crosses but Sarr can't get to it. Cascarino then misses a shot.
49 minutes: Belgium get a throw-in but it is immediately taken out of play, they have to capitalize on the chances when they have them. It's a slow build in that second 45 with possession trading hands quickly but Sarr crosses. The Belgian defense returns to midfield.
47 minutes: France get the first chance of the half with Diani's shot into the side netting.
Back in progress! France 2-1 Belgium
The action has started again and my prediction of a 3-1 French victory still stands. For now anyway… There was a change for Belgium as Vangheluwe left for Minnaert
The game has been tasty so far, let me know your thoughts via Twitter or email! I still expect France to win, but Belgium have started to show their class.
Here is this first goal of Diani! Do you think France can continue to win and take the lead?
Half-time: France 2-1 Belgium
Diani had another chance with a wide header. France looked to replicate their sticking out of Italy days ago as Diani got an early goal. But they saw plenty of chances go awry and Belgium were the next to score by Cayman to rekindle the clash. However, France wanted the last word and Bathy scored to put his team back in front. It's all to play for, but France are the best team so far.
45 + 2 minutes: Vangheluwe cuts off a pass from Cascarino as the Belgian defense begins to kick into high gear. Jim made contact with the Belgium goal and said: "It was a great goal, definitely worth describing the assist that was *Perfectly* weighted. In the end, it will be a consolation goal, but it was very well worked.
45 minutes: Belgium have a good spell from the box but France are not panicking and they will look to see that before the break. Belgium look stronger with every passing minute, so the extra five minutes will be warmly welcomed.