Halftime: Warriors 49-54 Celtics
Tatum bounces back with a nifty layup. Looney gets the last laugh, so to speak, with a dunk on the offensive glass, and Tatum can't hit a wild buzzer from the corner.
Compelling stuff as expected.
Warriors 47-52 Celtics, 34.3 seconds, second period: Andrew Wiggins rolls at light speed towards Tatum and still converts the shot one way or another. Tatum misses at the other end, continuing an ineffective quarter. But the Celtics force Curry to foul and White drains a three.
Warriors 45-49 Celtics, 2:14, second period: Curry drives deftly and draws a foul from Jaylen Brown, the Boston man's second foul in short order and third overall. He also hits the shot and the free throw. Another marvel.
Warriors 42-49 Celtics, 2:49, second period: That's all Al Horford right now. He grossly fouls to prevent a dunk, then ignores it to hit both free throws. At the other end, he saves a ball for a defensive rebound, starting a counter-attack that ends with Derrick White's acrobatic lay-up with the one-and-one.
Warriors 42-44 Celtics, 3:42, second period: Jordan Poole has 10 points in nine minutes off the bench for the Warriors. Unfortunately, he also has three fouls now.
Smart hits a three to put Boston back in front.
Warriors 40-39 Celtics, 4:59, second period: Both teams have turned colder than the curling surface I will be playing on next week.
Someone is not satisfied with the references:
Warriors 39-39 Celtics, 5:50, second period: Jaylen Brown ties it down on a nice road. The Celtics defense comes to life and clears the ball, and Tatum runs around three-quarters of the field trying to keep the ball in play. I didn't get it, but Kerr has seen enough for now. Dead time warriors.
Warriors 39-37 Celtics, 6:23, second period: After a good Tatum drive, the Boston crowd gets something even better, as Al Horford shoves a Draymond Green shot away like an early summer mosquito.
The crowd chants: "Let's go Draymond. Except they don't say "let's go".
Warriors 37-35 Celtics, 6:56, second period: Warriors coach Steve Kerr is given a technical foul after too many complaints. He had a point on this one, but not on Draymond Green's call.
Tatum misses the free throw. Payton Pritchard misses a free throw. Yeah. Pritchard finally hits one.
Warriors 35-34 Celtics, 7:27, second period: Draymond Green crashes into a defender then complains that he didn't get the call. Steve Kerr joins him.
Jaylen Brown hits an impressive 3-pointer as Klay Thompson fouls him through a Celtics teammate who puts up a screen. Thompson almost sent a Celtic to Brown, but the sniper didn't seem to care.
And then Brown missed the free throw. Go figure.
Long shot:
According to my Twitter page, WWE Smackdown is trending, and this game is not. Civilization is doomed.
Warriors 33-28 Celtics, 9:27, second period: A few bad passes from Tatum, a couple 3s from Jordan Poole (not Peele), and the Celtics call timeout again.
Warriors 27-28 Celtics, 9:48, second period: Nobody scored for 2:12 in the period.
Warriors coach Steve Kerr is asked between periods about the key to Stephen Curry's hot start. "He's really good at basketball," Kerr said. He's most eloquent when he talks about social issues, though you can certainly say that's as good an answer as any to Curry's question.
Nice pass from Robert Williams III to Grant Williams on the last game of the quarter:
End of first period: Warriors 27-28 Celtics
Could we envision an epic showdown between an older star and a younger star? Curry and Tatum each have 12 points. And three rebounds. And two assists. And a fault. Mirrors.
Grant Williams provides the final margin in the first quarter with a 3-pointer from the corner, and the Celtics are back in front.
Warriors 23-22 Celtics, 56.6 seconds, first period: The timeout must have worked. Plus, Curry might be a little overconfident now, throwing a timeout shot that would impress an NFL bettor. Not good. Brown takes a shot and Williams calls a check to cut that lead.
Warriors 23-18 Celtics, 2:01, first period: Remember when the Warriors didn't hit any 3s? They are no longer missing. Curry hits two in less than a minute, and a suddenly shocked Boston team calls a timeout.
Warriors 15-16 Celtics, 3:25, first period: Boston dominated and only leads by one. Very strange. Wiggins does the damage here with another 3-point patient.
And what a shock. ABC/ESPN's Jeff Van Gundy complains about referees. I would love to see him come to the football games I'm refereeing tomorrow – I haven't used my cards in a while.
Warriors 12-16 Celtics, 4:18, first period: It's a bit sloppy now. Curry kicks the ball off Horford's leg to keep possession. Then Draymond Green commits his second fault, to the delight of the public.
Warriors 12-14 Celtics, 4:53, first period: Gotta love swings in basketball. A scramble leaves Wiggins wide open for a 3-pointer, and we're tied. Tatum responds with a jumper. He already has nine points.
Warriors 9-12 Celtics, 5:46, first period: Klay Thompson breaks the Warriors' 3-point drought with a quick release on good screen, and the lead is cut in half.
Looney must have been motivated by the bench, as he cleans the glass from both sides.
Shooting percentages: Boston 50.0%, Golden State 22.2%. Oops.
Warriors 6-12 Celtics, 6:41, first period: Well, that didn't last long. Porter out, Looney in. Looney immediately picks up an offensive rebound. And an offensive foul.
Tatum is called for an offensive foul at the other end, hitting Wiggins after he lost control at the top of the lane. Free time.
Warriors 4-11 Celtics, 9:15 a.m., first period: Curry responds with two free throws after a foul from Marcus Smart, who follows up with an ill-advised pass to Al Horford on the baseline.
Then Smart wakes up with two quick assists for Tatum, who drains two 3-pointers sandwiching a Robert Williams III block on Curry.
Warriors 2-3 Celtics, 10:56, first period: Oh oh. Stephen Curry has already landed his first foul, a free kick on Jayson Tatum.
And we go…
And my TV too. Little snag. Look on the laptop for starters, though.
Should we just accept at this point that people will sing "per-o-lous" in the national anthem?
Good rendering though.
Tipoff is imminent.
And… the "Warriors come out to play" line was just quoted in the ESPN pregame. Now I feel so derivative.
Membership change for the Warriors tonight, with Otto Porter Jr. replacing Kevon Looney.
This decision has been met with some skepticism:
As we approach 20 minutes before the time the pregame will end and the second pregame will begin (why can't American sporting events just start on time?), here's a reminder that you can email me with your thoughts on the action. I could even check what was tweeted my way: @duresport.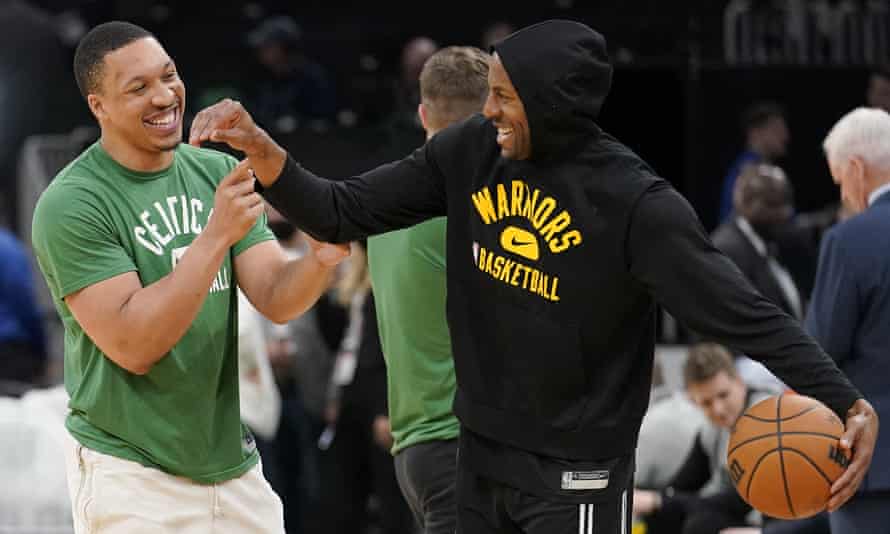 Speaking of polarizing people, Stephen A. Smith isn't on ESPN's pregame show because he's attending his daughter's graduation. They manage to carry on and scream without him. (In their defense, the Garden is loud enough already.)
Draymond Green is not liked:
He also had a disastrous Game 3.
Warrrriors… get out for plaaaay…
(OK, I'm probably the 5,000th person to make this reference, but it's still a good reference.)
Game 4. The winner has the advantage in the series. Either the Celtics go up 3-1 or the Warriors tie the series with two games left at home (Games 5 and 7).
Beau will be here shortly. In the meantime, here's Tom Kludt's return to Game 3.