You've been stalking Curtis Strange for decades now. Back in the 1970s, when you were shooting nine-hole 47s with frozen fingers in your high school games, Curtis was shooting 68s for Wake. He was a golfing god, and he and his teams at the Wake Forest brickyard received regular updates in world of golf (a weekly and a Bible), in golf diary (a USGA publication) and in all the best daily newspapers. Curtis Strange was a national figure in golf at age 20. He is now 67 years old.
Somehow, life has conspired to put you in a place where you can talk to Curtis on a semi-regular basis. You're on the phone with him, you meet him in hotel lobbies, you walk by his side at tournaments, within reach of a rope. You are really comfortable with him. But this time is different. You are now in Curtis' real office. Curtis Strange, on a scale, club in hand. It used to be a daily thing. But you haven't seen him for years.
This practice tee is on a course called Gray Oaks in South Florida, near a winter home Strange shares with his 45-year-old wife, Sarah, and (when they arrive) their two adult sons. and five grandchildren. As a television and radio commentator, Strange is incisive and outspoken. As a player he was similarly, attractively. It was once a hallmark of US Open winners. Ben Hogan, Hale Irwin, Hubert Green, Larry Nelson, Raymond Floyd and Tom Watson immediately come to mind. DIY golfers. Flint, really.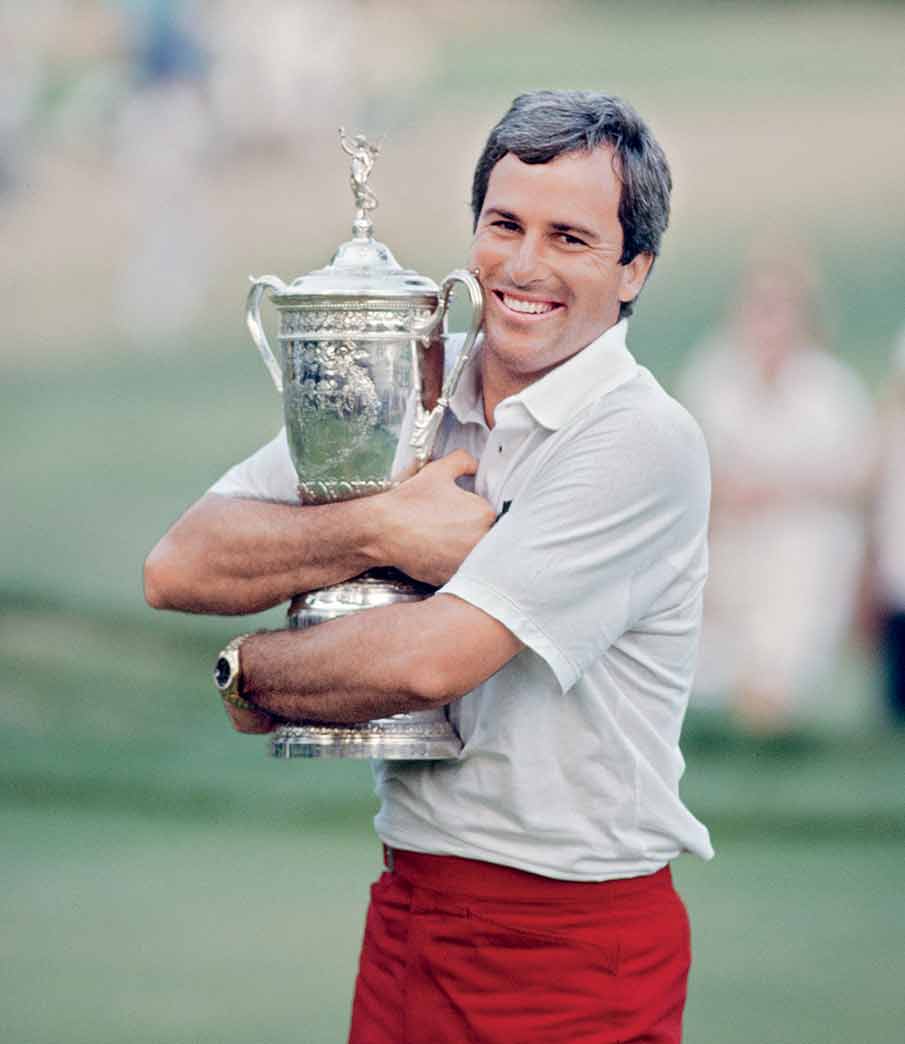 Curtis makes his familiar gesture, even though 33 years have passed since his last significant victory – the 1989 US Open, which came a year after his victory at the 1988 US Open, at the Country Club. "Peter Jacobsen had the best line," Curtis says. "'What, they didn't find a name?'"
As Tour rookies, Curtis and Sarah and Peter and his wife, Jan, once met at a place called Edge of Town Motel. They grilled their dinner on a portable hibachi and realized that some of their neighbors were renting by the hour. If you get the chance to talk to Curtis, take it. He is a living connection to the Tour when it was still a Tour and people lived there.
And now, at his invitation/insistence, you hit balls right next to him, or try to. Curtis punches him in the face, of course. Your own strikes are thin and thick and left and right. And then Strange decides to take a break from his own stack. He places his slender body behind you and says, "Let's see what you've got."
Should we?
Whatever Curtis Strange says about the game comes from a deep place. Although he is a son of the South, and although he took a four stroke lead in his turn on Sunday at the 1985 Masters (Bernhard Langer won), for Curtis the US Open is the father of all golf tournaments. His own father, a club pro who died before he was 40, played in six Opens. "I knew the Masters was a special tournament, but it was by invitation. Anyone could play their way to the US Open," Curtis will tell you. Big difference. Augusta was cozy and clubby and private. US Open had narrow fairways but was open in all respects.
It is therefore with heartache that Curtis acknowledges that the Masters has become the IT event for many players. "I don't know when it happened, but it happened," Strange says. He can easily list the various things Augusta lords have done well over the past 20 years and the various USGA missteps: some of the courses selected by USGA officials for the US Open. Some of their decisions. Some of their hole locations. Some of their broadcast decisions. Life revolves around little things.
"The US Open has lost its identity as the toughest event in golf," Strange says. He thinks the USGA can get its groove back. He hopes the USGA can get their groove back. He has considerable skin in the game. He was a medalist in the USGA men's junior event in 1971. The US Open were holy days for him and still are.
"The days in June were so long and you could train so late," says Curtis. He has always lived on the beach. He was always happy on a range. Dusk would come, at the Country Club, among others, and Curtis would be on top of his pile. Sarah was often 3 meters away, sitting on her bag. Curtis, both his game and his mentality, was made for the US Open. After winning in 1988 and 1989, Strange still had a chance to win with nine holes to play in 1990 at Medina. A chance to win a third time in a row. Hale Irwin won. It was his third Open title, 11 years after his second. Sarah and Curtis and Curtis' twin brother, Allan, flew home from Chicago in a small private plane. The guys drank beer and the plane had no toilets. It was the least of things.
"It was terrible," Sarah Strange says of that flight and that time. "We were completely wiped out. All the preparation for this third Open took Curtis out of his element.
Allan's meaning is different. He feels there was some relief for Curtis when the race ended. He reminds you that in 1994 at Oakmont, Curtis played very well, shooting four rounds of 70. He was one shot away from the Ernie Els-Loren Roberts-Colin Montgomerie playoffs.
And then there's Curtis' perspective on that, what his golfing life was like after Medinah. "I lost the advantage," he said. "I still went to the shooting range, but it wasn't like it was." The intensity of his sessions and what they meant to him. The warmth of his inner fire. No thermostat is sophisticated enough to measure its before and after temperatures. But Curtis could tell the difference.
Curtis continued to go to the range. He keeps going to the shooting range. It is his sanctuary. Does he expect to get better all of a sudden? No. But he knows what all lifers know. There is deep pleasure in trying. Because golf is hard and it feels good to do a hard thing well.
Curtis is behind you on this South Florida beach. He takes an alignment stick and places it in the ground about three inches behind and three inches to the right of your striped ball. He tilts the stick so that it's about 45 degrees, pointing roughly at your chin.
"I can't tell you what to do," Curtis says, "but I can give you an idea of ​​what it should look like. Go ahead and hit the ball. Just make sure you don't touch that stick.
You do a backswing and a downswing. You clean. The strike is to the face and the ball is in the air and drawing.
Without the stick, Curtis says, you're too straight and out.
The next one is good too.
The next round is good too.
You report your progress to Curtis over the phone.
"Next time I see you, we'll have to set up the stick on the other side," Curtis said. "You'll be too inside by then."
He knows how this thing happens, as far as it is knowable. Curtis Strange will tell you: it is not at all knowable. And he wouldn't want it any other way. Would you?
golf review
Subscribe to the magazine
Subscribe