The PGA Tour season is over and the only PGA-sanctioned event remaining on the schedule is the President's Cup, which Saudi Tour golfers are not allowed to play. Cam Smith will not be included, despite qualifying for the international team, nor will the other five golfers who announced their decision days after the Tour Championship concluded on Sunday.
Smith and fellow Aussie Marc Leishman are rumored to have made the jump, and they made it official with Joaquin Niemann, Harold Varner III, Cameron Triangle and Anirban Lahiri. The only golfers ranked in the top 20 of this group are Niemann (19) and, of course, Smith (two).
The six players will participate in the Saudi Tour's next/fourth event at The International in Boston on Friday, and it's the window that Greg Norman and his son Saudi Crown Prince Mohammed bin Salman — MBS to his friends — have been waiting for. The President's Cup doesn't start until September 20, and there are two Saudi stages before and three after.
All eyes that were on Rory McIlroy and Scottie Scheffler last weekend will be on Phil Mickelson and his motley crew of morally reprehensible gasbags — well, at least eyes that aren't watching football. This weekend's tournament is the only one not facing an NFL Sunday, and even then it clashes with Week 1 of college football.
If the Saudi Tour is to compete with the PGA, it will need to attract a wider audience than the people streaming LIVGolf.com on an iPad next to their pigskin-only flatscreen. I'm sure ESPN – soulless as it is – will air a few highlights on SportsCenter, but they'll probably have, what, 30 seconds between talking heads screaming about Alabama or the Cowboys or whatever segment of tertiary football which the producers deemed more important.
G/O Media may receive a commission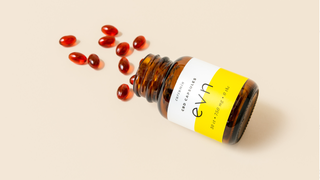 Rest, Recover and Relax
Sourced from family-run organic hemp farms in Wisconsin, Evn is a high-performance CBD brand that brings you a centered and calm experience right to your doorstep.
The only way a Saudi tour highlight leads the world leader's showpiece show is if Mickelson, Dustin Johnson, Smith and Brooks Koepka battle it out on the 18th green to resolve a tie at the top. (Please make this happen just for the opportunity to bring Bryson DeChambeau to WWE to hit Brooks with a 1 iron while Arlo White and David Feherty shout about official rules looking the other way .)
I think more people would listen to these goobers playing Top Golf than any goofy format Norman and Co. concocted. I've never seen Steph Curry's Holey Moley on ABC, but it seems like a funnier structure than those slugs oozing around a 54-hole course, weighed down with so much blood money that they don't give a damn about the outcome.
Regardless of the huge payday reward, how will Smith feel this time next year after being unable to defend his Open title? When does Donald Trump raise the difficulty, place a crazy inflatable arms in the middle of the sixth fairway of his course at Doral?
Judging by a small sample size (which clashes with a juggernaut that demolishes viewership records to the point that NFL games are in their own stratosphere) won't be an indication of the Saudi tour's viability. We'll find out next summer when there are poaching weeks for the PGA – and have a platform where grades can be tracked.
However, until I see the crowds going wild over things like McIlroy draining a 30-foot putt to take the lead on Sunday night, I'm very skeptical that the product will resonate outside the very niche, very , uh, accommodating fans who descend to the mere utterance of big-name golfers.